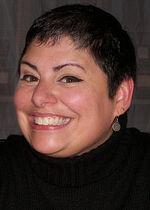 Holly Black, born as Holly Riggenbach, is an American best-selling author of contemporary fantasy novels for kids, teens, and adults. She is best known for her Modern Faerie Tale series and The Spiderwick Chronicles. She, along with Cassandra Clare, is co-author of The Magisterium series.
Personal life
Black was born in New Jersey in 1971. Black graduated with a B.A. in English from The College of New Jersey in 1994. She worked as a production editor on medical journals including The Journal of Pain while studying at Rutgers University. She considered becoming a librarian before her first book tour drew her away.
She married her high school sweetheart, Theo Black, who is himself an accomplished illustrator and web designer, in 1999.[1] As of 2008, they currently reside in Amherst, Massachusetts.
Bibliography
Modern Faerie Tale
Tithe (2002)
Valiant (2005)
Ironside (2007)
The Spiderwick Chronicles
The Field Guide (2003)
The Seeing Stone (2003)
Lucinda's Secret (2003)
The Ironwood Tree (2004)
The Wrath of Mulgarath (2004)
Care and Feeding of Sprites (2006)
Beyond the Spiderwick Chronicles
The Nixie's Song (2007)
A Giant Problem (2008)
The Wyrm King (2009)
Related works
Arthur Spiderwick's Notebook of Fantastical Observations (2005)
Arthur Spiderwick's Field Guide to the Fantastical World Around You (2005)
The Good Neighbors
Kin (2008)
Kith (2009)
Kind (2010)
The Curse Workers
White Cat (2010)
Red Glove (2011)
Black Heart (2012)
Standalone novels
Doll Bones (2013)
The Coldest Girl in Coldtown (2013)
External links
References