Welcome to The Magisterium Series Wiki,
a wiki for the The Magisterium series by Cassandra Clare and Holly Black.
Warning! This wiki reveals plot details and heavy spoilers about the series. Read at your own risk!
PLEASE NOTE that as of now we have new discrimination and conduct policy right here.
ANY insulting language such as 'Dumb', 'stupid', or idiot used towards another user shall result in a official warning. Violate this rule again and you shall be banned. Profanity used against another user (including A*shole and all slurs) will result in an immediate ban. ANY discrimination for ANY reason will also result in a ban, including slurs and like like to characters. (I.E.. Calron would be totally messed up, Tamara is a B*tch, ETC). Terms such as sexuality are permitted when used in a mature, relevant sense. IF YOU ARE BANNED you can tell me why on your message wall and I will consider lifting the ban.

Click here to read about more books in the Magisterium Series!

Verity Torres is a hero of sorts; the last Makar before Call's best friend Aaron Stewart was pronounced one. During her time, she was only one of two Makars: the other one being a former Magisterium student who went to the dark side and became the Enemy of Death. This left the young Verity to become the champion of the mages, the one expected to go against and defeat the rogue mage.
(more...)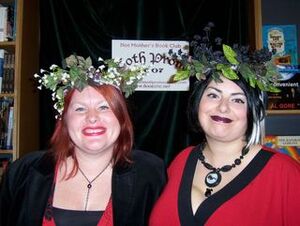 The two authors and friends who teamed up to create
The Magisterium
series:
Cassandra Clare
, author of the
Shadowhunter Chronicles
, and
Holly Black
, author of the
Spiderwick Chronicles
.

How did you like The Magisterium series?

Community content is available under
CC-BY-SA
unless otherwise noted.